This is the second of our three-part feature on the 30th anniversary of acid house and the origins of rave culture.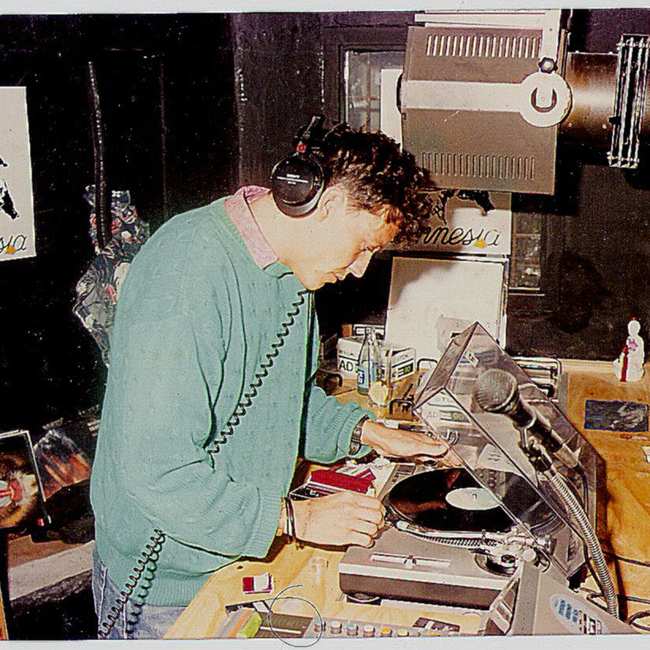 DJ Alfredo in the booth

DJ Alfredo is to Balearic Beats what Frankie Knuckles is to house music – the Godfather, or should we say el padrino. Some of you may ask what Balearic beats is but by definition, it has no definition. And this isn't meant to be cryptic, quite the opposite. As Alfredo himself says, it is "a sound that makes you forget genres or categories and you just enjoy it, listen to it, dancing and sharing." And if you need more to go off than that, it was to mark the beginning of the British acid house movement. 
But let's set the scene.
It's the 70s and Ibiza is an idyllic island of lost souls and happy hippies, living cheap and free, away from the harsh reality of the modern, capitalist world. A young Alfredo Fiorito arrives in 1976  having fled the dictatorship back in Argentina and finds himself working in a little old place called Amnesia.
Amnesia was one of the three clubs making the island pulsate at the time, alongside the infamous Pacha and Ku. Alfredo began pouring beers and shaking cocktails but when he had a spare minute, he would line up records on the turntables that sat behind the bar and realised he might be on to something. In these days, everyone would get paid after each shift and to fill the time while all the tills and bills were counted, Alfredo would spin a few records. As party-goers drifted home after a night on the tiles in Ku, they would hear Alfredo's tantalising beats and would drop in off the main road for One Last Dance.
Although of course, it never was just one last dance. In fact, it quickly became the first after-hours in the world and Alfredo's time to shine.
"Originally," Alfredo says, "it was as simple as me trying to make a party with a very cosmopolitan and different crowd very late at night, or very early in the morning". Freely skipping through anything from house to soul, Italo, Latin and funk, Alfredo's music was regarded as a non-style that perfectly tapped into the non-conformist way of life on the island. Throughout most of the 80s, his unique flow was drawing hoards of people that were looking to live, feel, dance and connect. As fellow Amnesia resident of the time Leo Mas reminisces, it was "a state of mind, as well as a style of music".
The 'genre' only really gained its Balearic beats title when four lads from England stumbled in through the doors of Amnesia one fateful night during the summer of '87. Dancing under the stars on the infamous terrace, Paul Oakenfold, Danny Rampling, Nicky Holloway and Jonny Walker discovered a freedom at the hands of DJ Alfredo and ecstasy in the hands of their own that sent them soaring into another galaxy. This elixir of life tasted irresistible to four guys coming from Thatcher-torn Britain, so when it came to leaving, they bottled it up and poured it onto the dance floors of the clubs they went on to set up.
Jonny Walker admits, "We came back literally wearing the T-shirts and holding the flyers and within five months, Paul started Spectrum, Danny started Shoom and I started the Trip". These monumental clubs drew in young hopefuls with a premise of freedom, peace and love, and from this blossomed a hedonistic a rave movement that reached its hazy heights during the Summer of Love over 1988-89.
The infamous Ibiza four were catapulted to stardom and have held a place in the hall of fame in the UK electronic music scene ever since. But they themselves admit that it was all down to Alfredo. Oakenfold reflects, "before Ibiza, I was playing LL Cool J and Run DMC, but when we came back I was playing acid house and Cyndia Lauper."
"It was Alfredo's influence," admits Walker, "I always felt he never got the full credit. We were just in the right place and carried on the party".
Billboard magazine claims "Ibiza owes its current status to four British DJs — Paul Oakenfold, Danny Rampling, Jonny Walker and Nicky Holloway — who took a vacation there in summer of 1987." But these four DJs didn't make Ibiza: Ibiza made them. And by Ibiza, we mean DJ Alfredo. 
Words by Amy Colville